Transition Season: College to Career
Published Date: 4/12/2019
&nbsp
So, what's next? The dreaded question that every senior in college faces…
Job searching while also finishing up your courses, and having a social life, poses challenges and uncertainty to all seniors. I knew my entire life was going to change quickly as I moved away from what had become "normal" to me the last four years of college. Little did I know, I would be diving head first into the automotive industry at Shift Digital a few months later.
Upon graduation, I moved to Alaska for a summer job and felt I had a general plan for my life. However, I realized the dreaded question did not go away. It was not until I returned home that I found Shift on LinkedIn and decided to apply. This spontaneous decision led me to phenomenal professional growth opportunities that I believe one can only find here at Shift Digital.
This company launched me into the automotive world from the very first training where we understood all aspects of the business. Like most starting positions, I began my journey in the Dealer Support Department where the roles are a combination of analytics, client management, customer service, and graphic design. I learned that each team at Shift has their own strengths, but we all are here to do the same thing – provide exceptional service and be the clients "go-to" person for whatever they need.
Shift is known as a powerhouse of our industry and is always growing to acquire new clients; and, new clients mean new opportunities. Our managers are dialed in and are encouraged to really understand their team members strengths which allows for constant internal promotions. Speaking from personal experience, after 1.5 years on my initial team, I recently moved to a new position where I'll be assisting with the launch of a new program and I could not be more excited. Not to mention Shift promotes a work-life balance atmosphere and employees are provided with catered lunches, free gym memberships, catered lunches twice a week, team outings, working social events and did you know you can bring your dog to work?
So, while I was trying to maintain a social life and academic life at the end of my college career, it was important for me to find a career at a workplace which provided a balance in both my professional and personal life. Shift has truly been the best company to help with transition from being a student to a young professional.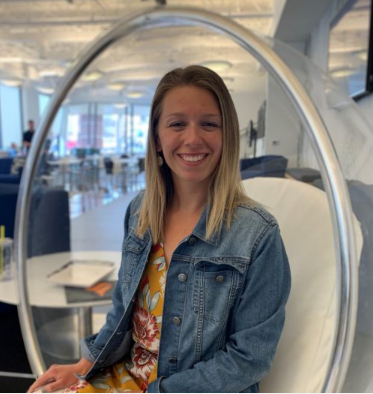 Looking to kick start your career in the marketing field? Check out our openings here.